Our Journals
RESEARCH COMMUNICATIONS
(Since 2008)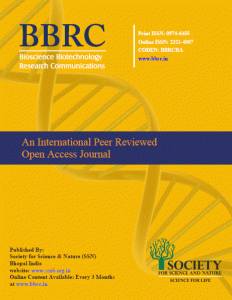 MANAGEMENT AND TECHNOLOGY
RESEARCH COMMUNICATIONS
The aim of the journal is to promote quality scientific research in fundamental and applied areas of biology and its allied branches including agricultural, environmental, medical, and biomedical and health sciences. It is an open access channel of rapid communication among biologists, biotechnologists, microbiologists, environmentalists, health
science personnel and biomedical experts in the Asia-Pacific region and wider international scientific community.
It has authors from the Middle East, Europe, Asia, South East Asia and the Asia Pacific regions and wider international scientific community, because of its quality and timely schedule of publication. The journal is read by a large community of young scholars, scientists and students from many continents.
The publishers of Biosc Biotech Res Comm believe in best of publication ethics and standards, hence a single journal is being published since 2008, to focus on its high academic standards, selecting quality papers for timely publication.
Biosc.Biotech.Res.Comm. is a peer reviewed journal for rapid communication of original research articles, the selection rate of articles is about 40 percent, where each article undergoes several rounds of revisions strictly complying reviewers comments and satisfaction.
Being a rigorously reviewed journal for constantly increasing its academic quality, it has become a favourite fast track communication among biotechnologists, health science personnel, and biomedical experts from the globe. Biosc.Biotech.Res.Comm. has been able to help scholars to present their cherished fruits of research grown on toiled and tilled trees of hard work.
The journal is abstracted in leading international indexing agencies, it accepts manuscripts that have not been published earlier. The articles should not be simultaneously under consideration for publication elsewhere. The Editorial Board members evaluate each article submitted to the journal and submit it to a rapid peer review by internationally acclaimed experts. Rigorously reviewed and many times revised manuscripts after critical improvements along with language polishing by English Language experts are finally accepted and uploaded on the journals website www.bbrc.in as Early On Line, for an Open Access availability to the scientific community.